Being encouraged by the two features of The 2030 Agenda for Sustainable Development Goals (SDGs) i.e. transformative and inclusive and remaining committed to implementing 2030 Agenda, a group of individuals has taken an initiative to set up the Citizen's Platform for SDGs, Bangladesh with the objective to contribute to the delivery of the SDGs and enhance accountability in its implementation process.
Rifat
দীর্ঘ পাঁচ দশকে বাংলাদেশ বিভিন্ন ক্ষেত্রে সক্ষমতার পরিচয় দিয়ে বিশ্বব্যাপী প্রশংসা কুড়িয়েছে। একটি যুদ্ধ-বিধ্বস্ত রাষ্ট্র থেকে অর্থনৈতিক উন্নয়ন এবং আর্থ-সামাজিক রূপান্তরের ক্ষেত্রে বাংলাদেশ একটি রোল মডেল হিসেবে স্বীকৃতি অর্জন করেছে।
Sarwar
The Citizen's Platform for SDGs, Bangladesh, as a part of [...]
Sarwar
ঋতু কমিক বই এবং ওয়ার্কশপের মাধ্যমে ঋতু সারা দেশের কিশোরী এবং তরুণীদের মাঝে বয়ঃসন্ধি এবং মাসিক নিয়ে সচেতনতা তৈরী করে। এই ওয়ার্কশপগুলো কিশোরীদের পাশাপাশি তাদের মা-বাবা, শিক্ষক, প্রতিবেশী এবং কমিউনিটির অন্যান্য মানুষ সবাইকে নিয়ে করা হয় কারণ পিরিয়ড নিয়ে লজ্জা ভাঙতে হলে মাসিক ও মাসিক হাইজিন ম্যানেজমেন্ট (এম এইচ এম) এর গুরুত্ব সবার মাঝে একসাথে ছড়িয়ে দেয়াতে বিশ্বাসী ঋতু।
Sarwar
টেক ব্যাক দ্য টেক (টিবিটিটি) হ'ল প্রত্যেকের, বিশেষত মহিলা ও মেয়েদের বিরুদ্ধে অনলাইন সহিংসতা অবসানের জন্য প্রযুক্তি নিয়ন্ত্রণ গ্রহণের আহ্বান। এটি একটি বিশ্বব্যাপী, সহযোগিতামূলক প্রচারণার প্রকল্প যা বিশ্বের বিভিন্ন অঞ্চল থেকে গবেষণা এবং সমাধানের পাশাপাশি মহিলাদের বিরুদ্ধে প্রযুক্তি সম্পর্কিত সহিংসতার সমস্যা তুলে ধরে।
Sarwar
UCEP Bangladesh is proactive towards promoting the overall wellbeing of its workforces and conducive working environment across the organization. The management took a wide range of initiatives since the outbreak of COVID-19 to ensure safety and security in its programmatic and non-programmatic activities.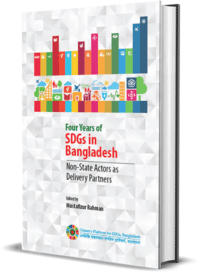 The book offers a set of reports that evaluate the development progress of Bangladesh, with special reference to the role of non-state actors, in the six Goal areas identifi­ed to be reviewed at the HLPF 2019: Quality Education (Goal 4); Decent Work and Economic Growth (Goal 8); Reduced Inequalities (Goal 10); Climate Action (Goal 13); Peace, Justice and Strong Institutions (Goal 16); and Partnerships for the Goals (Goal 17). In the process, the reports identify key partnership challenges and possible approaches in moving forward. [Read more]
This publication takes stock of the progress made by Bangladesh in achieving the Sustainable Development Goals (SDGs) during the ­first four-year cycle of the 2030 Agenda. The volume is the product of a unique participatory exercise which deploys a non-state actor's (NSA) lens in discerning the country's recent development experience.
The volume not only seeks to assess the contribution of the NSAs in delivery of the SDGs in the country, but also identifi­es the post-2015 changes in their programmatic approaches. [Read more]