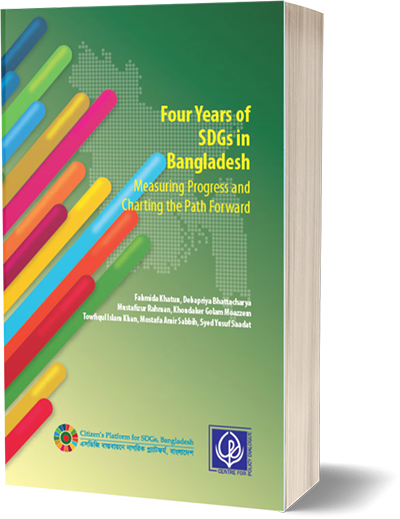 This publication takes stock of the progress made by Bangladesh in achieving the Sustainable Development Goals (SDGs) during the ­first four-year cycle of the 2030 Agenda. The volume is the product of a unique participatory exercise which deploys a non-state actor's (NSA) lens in discerning the country's recent development experience.
The volume not only seeks to assess the contribution of the NSAs in delivery of the SDGs in the country, but also identifi­es the post-2015 changes in their programmatic approaches. The authors of the volume provide an evidence-based expose of the progress made in the areas of a number of critical SDGs. What is revealing is a set of projections indicating the challenges of full and faithful realisation of the 2030 Agenda in Bangladesh. The authors have not, of course, shied away from suggesting the possible pathway for overcoming these challenges.
The volume comes at a very opportune moment as the country prepares its second Voluntary National Review (VNR), to be placed at the High-Level Political Forum on Sustainable Development (HLPF) 2020 at the United Nations in New York.
Authors: Fahmida Khatun, Debapriya Bhattacharya, Mustafizur Rahman, Khondaker Golam Moazzem, Towfiqul Islam Khan, Mostafa Amir Sabbih, Syed Yusuf Saadat
Published by: Centre for Policy Dialogue (CPD) and Citizen's Platform for SDGs, Bangladesh
Publishing period: February 2020
ISBN 978-984-34-8750-6