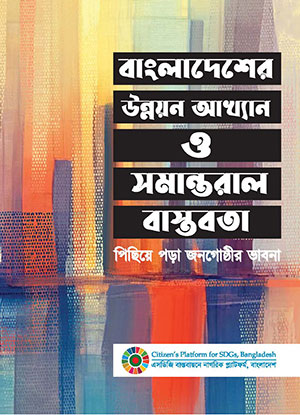 দেশের জাতীয় উন্নয়নে, স্থানীয় বাস্তবতা নীতি প্রণয়ন এবং বাস্তবায়নে প্রতিফলিত হয় না, এবং পিছিয়ে পড়া জনগোষ্ঠীর অভিজ্ঞতার আলোকে নীতি পরিবর্তনের কোনো সুস্পষ্ট ব্যবস্থা ও কাঠামো অনুপস্থিত। ঐতিহ্যগতভাবে, পিছিয়ে পড়া গোষ্ঠীগুলির কণ্ঠস্বর জাতীয় উন্নয়ন বিতর্কে বিবেচনায় নেওয়া হয় না এবং তাদের অধিকার, স্বার্থ এবং উদ্বেগগুলিকে তুলে ধরা এবং স্থানীয় সমস্যাগুলোর সমাধানে কোনো সুনির্দিষ্ট নীতিমালা নেই। হালনাগাদ তথ্য-উপাত্তের অভাবে পিছিয়ে থাকা জনগোষ্ঠীর আকাংক্ষা উন্নয়ন এবং নীতি পরিকল্পনার অগ্রাধিকার থেকে বাইরে থেকে যায়।
নাগরিক প্ল্যাটফর্ম আয়োজিত বিভিন্ন আঞ্চলিক পরামর্শ সভায় অংশগ্রহণকারীদের বক্তব্য সংকলিত করে "বাংলাদেশের উন্নয়ন আখ্যান ও সমান্তরাল বাস্তবতা: পিছিয়ে পড়া জনগোষ্ঠীর ভাবনা" শীর্ষক এই প্রকাশনা প্রস্তুত করা হয়েছে।
Being encouraged by the two features of The 2030 Agenda for Sustainable Development Goals (SDGs) i.e. transformative and inclusive and remaining committed to implementing 2030 Agenda, a group of individuals has taken an initiative to set up the Citizen's Platform for SDGs, Bangladesh with the objective to contribute to the delivery of the SDGs and enhance accountability in its implementation process.
Rifat
The Citizen's Platform is being supported for the second time by the Canadian Fund for Local Initiatives (CFLI) to implement a project titled "Aligning Policies with Bangladesh's Aspirations: Strengthening Demand Side from the Perspectives of Marginalised Groups". 
Rifat
With the objective to empower the youth by way of establishing aspirations and expectations in the electoral domain, the Citizen's Platform for SDGs, Bangladesh is trying to give shape to a programme
Rifat
It is crucial to address the need to increase the number of teachers in each school and provide subject-specific training to them.