2022 – A Year of Gathering Momentum
The year 2022 was indeed a year of gathering momentum for Citizen's Platform SDGs, Bangladesh, as the title suggests. Citizen's Platform designed and delivered its activities this year to incentivise and bring forth the voices and perspectives of the 'left-behind' citizens and communities in national development discourse.
We share some of the activities that kept us busy throughout this year.
---

National Development Narrative and Local Realities

Citizen's Platform rounded up the year with a unique approach by organising a
public hearing
 (Dhaka; 3 December 2022) at the national level, highlighting the 
local responses to national development narrative
. Citizen's Platform brought together 400+ participants from 25 districts, representing different left-behind communities, who articulated their demands and challenges in the presence of a distinguished citizen's panel and media.
---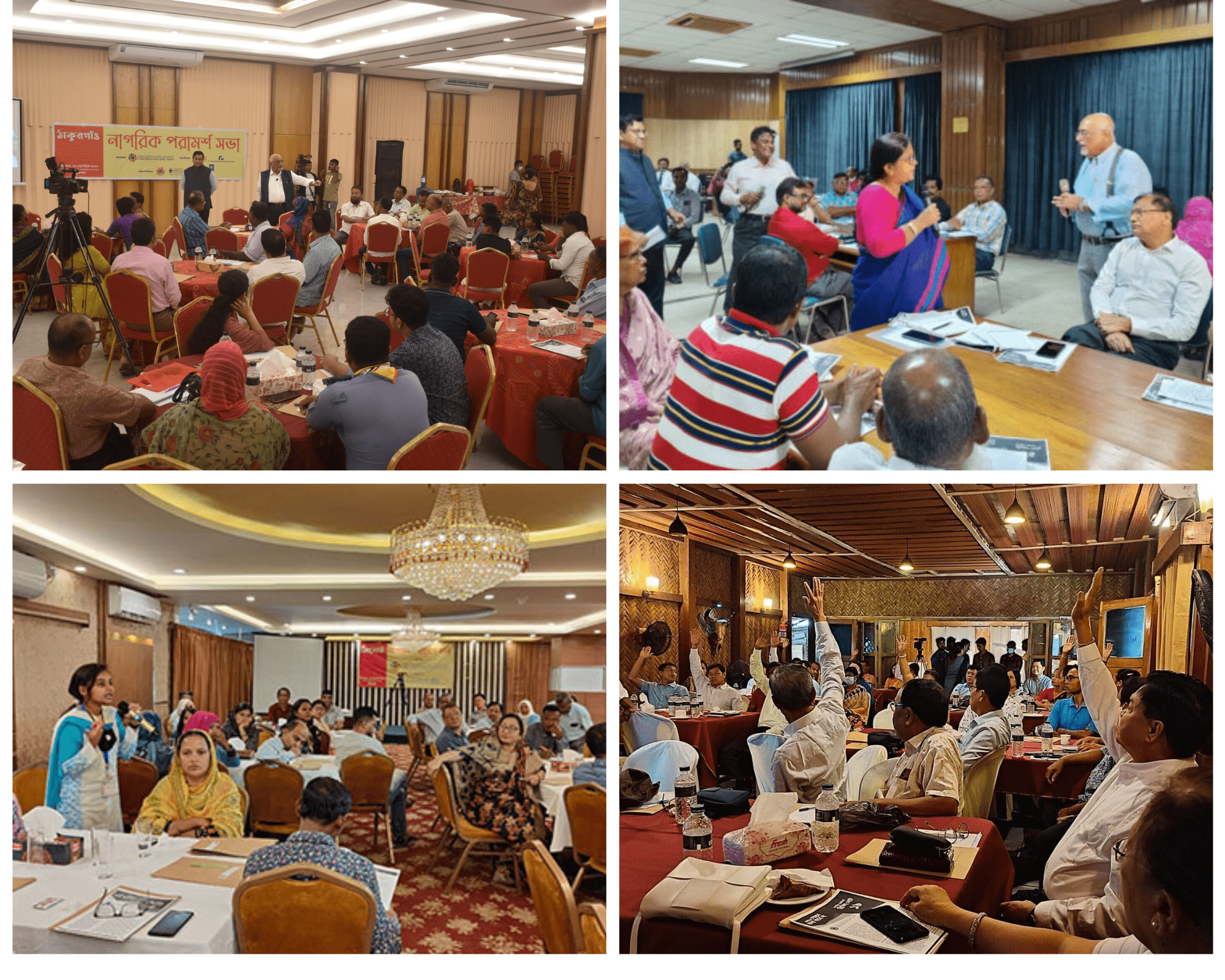 Giving Voice to the Left-behind at the Local Level
Citizen's Platform had been engaged in 2022 doing wide-ranging
citizen's consultations at the sub-national level
 in Rangpur, Khulna, Sylhet, Tangail, Thakurgaon, Rangamati and Chattogram with the stakeholders representing left-behind communities. The main objective of these consultations is to engage with the stakeholder representatives of the district to explore their experiences and expectations in the context of the official development narrative.
---
CSO and Private Sector's Role and Strategy for Smooth LDC Graduation of Bangladesh
---
National Budget Analysis through LNOB Lenses

---
Citizen's Protest in Response to Communal Violence
In response to the communal violence, Citizen's Platform organised a citizen's protest meeting (Dhaka; 22 July 2022). The Platform brought victims from the affected areas so that they could reflect their voices on the national platform and share their experiences. Representatives from civil society and human rights activities joined to share their solidary and support.
---

Citizen's Platform on the Proposed Anti-Discriminatory Bill 2022
Citizen's Platform organised a media briefing to share its reaction on the proposed 
Anti-Discriminatory Bill 2022
(Dhaka; 10 April 2022). Civil society representatives, who were involved in gathering public opinion to shape this law, shared their views at the media briefing.
---
Why are the tea plantation workers left behind in Bangladesh?
This year, Citizen's Platform also advocated to highlight the challenges faced by the tea plantation workers and provided a platform to promote their voices to uphold their concerns and interests through a national event (Dhaka; 23 November 2022).  The dialogue brought together a set of tea plantation workers and organisations from Moulvibazar and Sylhet and representatives from other stakeholder groups, including Tea Board officials, tea garden owners and exporters, CEO of tea gardens, and international development partners.
---
---
Networking and Participation

Citizen's Platform welcomed seven new
partner organisations
,
and the total number of partners is now 125. Around 2400+ participants, of which around 800+ represented left-behind communities, joined Citizen's Platform's dialogues and conferences physically throughout the year. All the national dialogues and conferences were live-streamed on the Platform's Facebook page and viewed by 24,735.
---
Digital Presence
There were a total of 111 posts on Facebook, 29 on LinkedIn and 12 short AVs throughout the year. In 2022, Citizen's Platform's Facebook reach was 108074, which includes 1271 new likes and 6380 visits.
Wishing all our partners and well-wishers a very successful 2023.