Bangladesh is one of the leading countries in terms of internalising the Sustainable Development Goals (SDGs) with national development plans. Strong political will, good governance and supportive private sector are the keys to realise the vision of leaving no one behind and achieve the SDGs.
Speakers and discussants shared such views at the seminar on Sustainable Development Goals (SDGs): Challenges of Implementation in Bangladesh organised, jointly, by the Centre for Policy Dialogue (CPD) and Public Policy and Governance (PPG) Program of North South University (NSU) on 23 November 2016 at NSU Syndicate Hall, Dhaka.
CPD Distinguished Fellow Dr Debapriya Bhattacharya, Convenor, Citizen's Platform for SDGs, Bangladesh, presented the keynote on the subject. He put emphasis on utilising the lessons learned from the Millennium Development Goals (MDGs) and suggested the government to be more strategic while identifying policy gaps and the trade-offs lurking under the vast and complex matrix of 169 SDG targets. He mentioned that economic, social and environmental developments are the three major pillars of sustainable transformation. The government should focus on proper resource mobilisation and effective engagement of the private sector with the implementation process to attain SDGs, said Dr Debapriya.
In his introductory remarks, CPD Executive Director Professor Mustafizur Rahman, Core Group Member, Citizen's Platform for SDGs, Bangladesh emphasised on necessary research to determine appropriate methodologies as pre-requisite for SDG implementation process. It will require multi-stakeholder and inclusive approaches to achieve the SDGs, he said.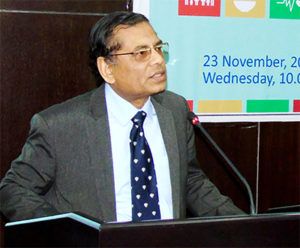 Mr Monirul Islam, Deputy Chief of the General Economics Division, Planning Commission noted, as designated discussant, that the all the remaining challenges in the MDGs will drag the pace of SDG implementation as well. He also informed that the government is focusing on adopting necessary methodologies and data availability to address the challenges concerning the implementation process.
Vice President of New Age Group Mr Asif Ibrahim, Core Group Member, Citizen's Platform for SDGs, Bangladesh, while speaking as designated discussant, highlighted the challenges, lies within availing necessary finance and resource mobilisation as crucial for reaching SDGs.

Professor Mahboob Rahman, PhD, Dean School of Business & Economics, NSU and Professor Sk. Tawfique M. Haque, PhD, Director, PPG Program, NSU also spoke as designated discussants. The seminar was chaired by NSU Vice-Chancellor Professor Atiqul Islam, PhD.
Followed by the speech by Mr Azim Uddin Ahmed, Chairman of NSU Board of Trustees, the session ended with the vote of thanks by Dr Mahbubur Rahman, Chair Department of Political Science and Sociology, NSU. The floor discussion of the seminar was participated by academicians, researchers and students among others.