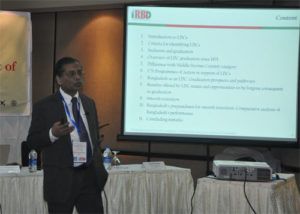 Bangladesh is on the path of graduating from the category of Least Developed Countries (LDCs). The country is also pursuing implementation efforts to achieve the Sustainable Development Goals (SDGs). Along with other actors, the media can play a critical role in attaining these international goals by providing public oversight through objective and effective reporting on delivering the international development agenda.
In view of this, Centre for Policy Dialogue (CPD) organised a daylong workshop titled LDC Graduation in the context of SDGs Achievements on Saturday 10 December 2016 at BRAC Centre Inn Auditorium, Dhaka. CPD organised the workshop under its flagship programme Independent Review of Bangladesh's Development (IRBD).
Thirty two journalists from print, TV and online media of Bangladesh took part in the workshop. The workshop included lecture sessions by CPD professionals and implementation of group assignments by participants.
Ms Anisatul Fatema Yousuf, Head of Dialogue and Communications Division, introducing the workshop explained the need to better understand the complex realities of Bangladesh through the lenses of LDCs and SDGs.
CPD Executive Director Professor Mustafizur Rahman delivered his lecture on "Graduation from the Least Developed Country Category: Is Bangladesh Ready for a Smooth Transition?" In his Lecture Professor Rahman presented the LDC graduation process, difference between LDCs and Middle Income Country categories, and prospects, pathways and preparedness of Bangladesh for a smooth transition.
In his lecture Dr Debapriya Bhattacharya, Distinguished Fellow, CPD highlighted the distinguishing features of SDGs, the implementation challenges for Bangladesh, and the review and follow-up process of the global agenda. In his presentation titled "2030 Agenda for Sustainable Development: Framework Issues and Implementation Challenges", he emphasised the role of media in the multi-stakeholder approach of the SDGs.
Dr Fahmida Khatun, Research Director, CPD and Dr Khondoker Golam Moazzem, Additional Research Director of CPD chaired the two sessions. Group activities of the participants were conducted by CPD Research Fellow Mr Towfiqul Islam Khan. Eminent educationalist Professor Syed Manzoorul Islam, Member, CPD Board of Trustees gave away the certificates among the participants.