Based on the recent robust development pace of Bangladesh in socio-economic and other aspects, the importance of good governance and public participation in public finance management has significantly increased. A common belief is that maintaining the speed and quality of development would be impossible without proper financial management. The primary and mass education programmes, at the local level, hold a significant position as a priority sector in terms of public expenditure. In line with its research objectives, the Centre for Policy Dialogue (CPD) has conducted social audits in recent times in Gaibandha (Sundarganj Upazila) district to obtain an accurate and reliable estimate of the citizens' needs at the grassroots level regarding primary education in terms of quality of education, provision of infrastructure, inclusiveness of education system and management, and identification of challenges and development opportunities. The social audit encompassed the active participation of local administrative officials, government representatives, civil society members, representatives of different communities and other stakeholders, aiming to gather valuable insights and perspectives regarding primary education at local levels.
To showcase the social audit findings and unveil the views of the local representatives, a sub-national dialogue titled 'Education Scenario in Primary Schools: Measures that need to be taken' was held on Saturday, 10 June 2023 at SKS Inn, Radhakrishnapur, Gaibandha. The dialogue was initiated by CPD, with support from the European Union, in partnership with Eco-Social Development Organization (ESDO) and in collaboration with Citizen's Platform for SDGs, Bangladesh.
Dr Debapriya Bhattacharya, Convenor, Citizen's Platform and Distinguished Fellow, CPD, moderated the dialogue. He opined education goes beyond merely obtaining a certificate. Instead, a truly effective education system should be designed to enable the youth to actively contribute to the development of their country and nation, as well. In order to achieve this specific goal, it is imperative that 25 per cent of the education budget be allocated to the primary level. It is not sufficient for education to be measured solely by the number of high-achieving students or accolades such as scoring 'A Plus' or 'Golden A Plus'; rather, the focus should be on enhancing education quality.
In his keynote presentation, Mr Towfiqul Islam Khan, Senior Research Fellow, CPD, highlighted that both the enrolment and dropout rate in Gaibandha district is higher than the national average. Besides, the rate of child marriage in this district is also higher than the national standard.  Mr Khan also figured out another concerning issue that almost half of the population in the district lacks access to safe sanitation facilities. The insufficient allocation has resulted in the absence of dedicated personnel responsible for constructing and maintaining required number of toilets in schools, as well as the overall upkeep of the educational infrastructures.
He recommended increasing the number of classrooms, teacher recruitment and trainings. Mr Khan also urged to provide adequate resources for extracurricular activities, ensure the use of digital learning materials in all academic activities, construct boundary walls, and separate toilets in every primary school for boys and girls. He also suggested establishing libraries and playgrounds, addressing the needs of students with disabilities and mitigating the learning loss that unfortunately occurred due to the COVID-19 pandemic.
The Chief Guest, Barrister Shameem Haider Patwary, MP, Member, Parliamentary Standing Committee on Ministry of Law, Justice and Parliamentary Affairs, pointed out the country's education system requires development and progress, particularly in regions with high poverty rates. He underscored on intensified efforts to enhance educational standards in these areas. Additionally, he pointed out that residential arrangements should be established for teachers working in Char areas of the district. The lawmaker also demanded the establishment of a separate engineering unit dedicated to improving the infrastructure of primary-level educational institutions.
Mr Abdur Rashid Reza Sarkar Dablu, Municipal Mayor, Sundarganj, and the Guest of Honor at the event, said the government ought to take measures to encourage individuals to choose teaching as a profession over other occupations.
Professor Jahurul Quayyum, President, Sochetan Nagorik Committee – SONAK (a committee of of concerned citizens), Gaibandha, Distinguished Speaker, said discrimination may not be as overt as the past days, but still it persists in various forms. Furthermore, there are evident loopholes within the student evaluation system. If a student does not receive a proper education and the learning process background is not up to the mark, the consequences and challenges can prevail for a considerable period, especially when attempting to advance to higher academic levels.
Mr Akhteruzzaman, Member, General Committee, ESDO, was also present as a Distinguished Speaker. He said the cluster monitoring system of primary schools is better than high schools. He suggested the school heads should be responsible for monitoring the system.
Ms Anamika Saha, Vice-Principal, SKS School and College, Gaibandha, another Distinguished Speaker, highlighted the importance of setting up a library in every school with a provision of having at least 500 books of varied interests. She, as a teacher herself, said, 'The sincerity and accountability of teachers have the potential to transform an education system'.
During the open floor discussion, the discussants raised some important and critical issues. They said the schools in the Char areas are hit by teacher shortage. Even if there are teachers, inspections are insufficient, and the dropout rate among students remains high. For reducing the dropout rate, they emphasised regular meetings with mothers, providing incentives like mid-day meals and enjoyable learning methods for primary school students. When providing stipends, it is crucial to coordinate them with the poverty levels in the area. Students from the Char regions, minority groups, and the Dalit Ravidas class face various social challenges. Therefore, it is necessary to adopt an area-wise policy and develop a separate education calendar, especifically designed for the char areas.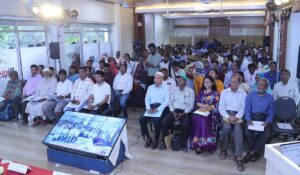 Professor Mustafizur Rahman, Distinguished Fellow, CPD and Core Group Member, Citizen's Platform, in his concluding remarks, emphasised on customisation of primary education system and other government services for every region based on region specific demand and gap. He mentioned digital learning has the potential to leverage the expertise of our best teachers, enabling them to utilise their full capabilities, and thereby, minimising the educational gap between the urban and hard-to-reach regions. So, he stressed on blending education and digital learning to all levels.