The International Day for World's Indigenous Peoples has been celebrated today, on 9th August, countrywide. The day was observed in a hope to end forced migration and displacement of indigenous peoples in Bangladesh. The theme of this year's International Day for World's Indigenous Peoples was "Indigenous peoples' migration and movement".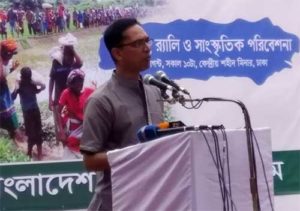 The biggest observation of the day was held at the Central Shaheed Minar, Dhaka jointly by HEKS, BIPF and other organizations. Hasanul Haq Inu, Information Minister was the chief guest of the ceremony. Convener of parliamentary caucus on indigenous affairs Fazle Hossain Badsha, Human rights activist Sultana Kamal and indigenous leader Shantu Larma were also among the guests along with a number of MPs, indigenous leaders, activists, NGO representatives, academicians, students' organizations. The guests urged the government to stop discrimination towards the indigenous people which resulting forced displacement of the indigenous population. They also asked government to recognize the "indigenous" identity.
Among others, the Country Director of HEKS/EPER, Anik Asad said that, the repression of indigenous people is unacceptable. Corrupt politics and poor human rights condition are worsening the situation. He told that, the creation of institutional mechanism in favour of Dalit and Adibashi people can improve this situation. He also emphasized that, developing a targeted national strategy through institutional mechanisms could end the discrimination of Dalit and Adibashi people.
HEKS/EPER is working on Dalit and plainland Adibashi rights in Bangladesh for decades. HEKS/EPER also organized the celebration of the day countrywide through NNMC and it's partner organizations.