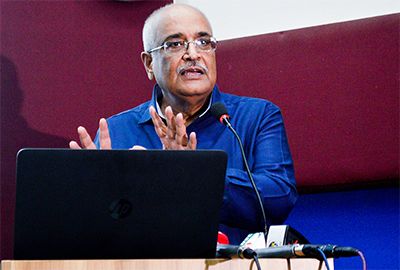 Bangladesh needs to internailse the ambitious goals and targets of the Sustainable Development Goals (SDGs) with national planning process and allocate necessary budgets accordingly in national budgets. Availing adequate funds will be a major challenge, and therefore, the country needs effective resource mobilisation and active monitoring mechanism to achieve SDGs, said Dr
Debapriya Bhattacharya, CPD Distinguished fellow and Convenor of the Citizen's Platform for SDGs, Bangladesh, while delivering public lecture on Challenges of Implementing the New Global Development Agenda. The lecture session was organised by the Reading Club, a forum of students of University of Dhaka at the Bangladesh Asiatic Society Auditorium on 26 November 2016.
Dr Debapriya stressed that the government should allocate funds for the SDGs in the upcoming national budget 2017-18. Bangladesh did very well in implementing the Millennium Development Goals (MDGs) but the SDGs are quite different and complex. It will require more effort in resource mobilisation, monitoring the implementation and developing necessary infrastructures to reach the targets.
Dr Debapriya also chairs the Southern Voice on Post-MDG International Development Goals.