Today's Bangladesh has some emerging wealthy and politically powerful groups, i.e., in the language of economics, an oligarchy is emerging in society – stated Dr Debapriya Bhattacharya, Convenor, Citizen's Platform for SDGs, Bangladesh and Distinguished Fellow, Centre for Policy Dialogue (CPD), in the Dialogue and Public Launching Event.
Citizen's Platform prepared the publication titled – "Bangladesh's Development Narrative and Parallel Realities: Perspectives of the Left Behind Communities" which was launched at the public event on 25 September 2023, at Krishibid Institution Bangladesh, Dhaka. This is a unique publication which captures the perspectives and opinions of the citizens on the current development narrative, emerging from the nationwide citizens consultations conducted by the Citizens Platform in 2022, where around 500 citizens from 25 districts, representing various left-behind communities were present. In this connection, in the year 2022, Citizens Platform conducted consultation meetings with more than 400 citizens of 25 districts.
Professor Rehman Sobhan, Chairman, CPD, chaired the event.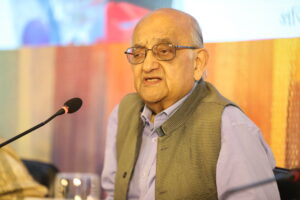 Dr Debapriya Bhattacharya, Convenor, Citizen's Platform and Distinguished Fellow, CPD made the keynote presentation where he mentioned that the wealth gap in the disparity index has significantly widened. It is very important to know how the national development of Bangladesh is benefitting the grassroots level. The reality is that while we have achieved national development, it has not been inclusive of the entire nation.
He added that the picture of discrimination in society is multidimensional. That is, when a person is a victim of discrimination, he is involved in many other things, which is called 'multiple vulnerability'. For example, one's lack of income keeps him away from the right to education, health, etc.
From the local dialogues, he pointed out the major disparities such as lack of decent employment, area-specific discriminations, violence towards women, degradation of the environment, non-functionality of government offices, lack of cultural enthusiasm and spread of corruption.
As an honourable discussant, Professor Mustafizur Rahman, Core Group Member, Citizen's Platform, and Distinguished Fellow, CPD, said that we must liberate ourselves from the dominance of the average. There is no denying the progress we have made in socio-economic indicators but at the same time, it is essential to acknowledge the parallel reality. Currently, there are three aspects of inequality in the country, i.e., moral aspect, economic aspect and political aspect.
Mamunur Rashid, an Eminent Cultural Personality of Bangladesh, placed a significant emphasis on the term "narrative" within the context of Bangladesh's development narrative. He further remarked that our education system has been severely undermined. Unlike capitalist nations worldwide, certain domains like education remain untouched, whereas, in our country, teachers are being subjected to violence. In the culture that existed in Bangladesh from the 1930s to the 1960s, the depth of humanity and ethics have been steadily fading since the 1990s.
Individuals who hold positions of authority within the state carry a greater burden when it comes to bridging the disparity between development goals and reality. Parallel reality that we came to know is a backlash for us. Bangladesh possesses the potential to attain the level of equality that was envisioned during our liberation war and reach the horizon, added Ms Selina Hossain, Chairman, Bangla Academy.
Core Group Member, Citizen's Platform, and Managing Director, Apex Footwear Limited, Mr Syed Nasim Manzur, quoted that a significant distinction exists between the education system and employment. Here we are enjoying the over-consumption of education. Unfortunately, the essential vocational education needed for our economy isn't being adequately promoted, largely due to various societal stigmas. Along with education, skills should also be increased. Just like education is a right, skill is also a right.
Advocate Sultana Kamal, Core Group Member, Citizen's Platform, and Member, CPD Board of Trustees, mentioned that the thoughts of the left behind community we are discussing are not very unfamiliar to us. Political will is needed to solve all these problems which will come from the politicians.
Justice M A Matin, Former Justice, Appellate Division, Bangladesh Supreme Court graced the event as a distinguished speaker. He pointed out that the affluent population in Bangladesh has grown since gaining independence. He highlighted that issues like education, health and others cannot be seen in isolation. To make development successful, these must be addressed collectively. Moreover, he emphasised that poverty serves as the underlying factor for various challenges.
Civil society should also be more vocal and monitor the development of the society. Civil society must play a pro-active role through collective action, voluntary role etc, and increase the campaign more, said Professor Rehman Sobhan, Chairman, the Centre for Policy Dialogue (CPD) in his concluding speech.
Representatives of partner organisations of Citizen's Platform and media were also present at the event.