Published in FDI Intelligence on 21 December 2020
Covid-19 wipes 5 years off SDG investment: Unctad
The UN's ambitious sustainability targets need a reboot
In one fell swoop, Covid-19 has undone five years of progress by developing economies in attracting investment underpinning the sustainable development goals (SDG), according to the United Nations Conference on Trade and Development's (Unctad) December SDG Investment Trends Monitor.
Foreign greenfield investment in these countries' SDG sectors is now 27% lower than before 2015, the year the SDGs were adopted, and is on course to fall by 40% compared with 2019. In the first half of 2020, total FDI into developing and transition economies fell just 21%, revealing that their SDG sectors have been disproportionately hit.
"Covid-19 has definitely struck a devastating blow to the SDG achievements over the past five years," said Debapriya Bhattacharya, chair of think tank consortium Southern Voice.
The pandemic has pushed the SDGs to a critical juncture. Even before Covid-19, progress was behind schedule in closing the developing world's $2500bn annual investment gap needed to meet the SDG's 2030 deadline.
This year's biggest declines are in infrastructure, where project values are 62% lower than 2019, and in water and sanitation which is down 70%. The one bright spot is renewables which have grown at one-third of 2019's pace. The hardest-hit regions are developing Asia, which still saw more investment than its peers despite a 45% drop in project numbers, followed by Latin America and the Caribbean (down 41%).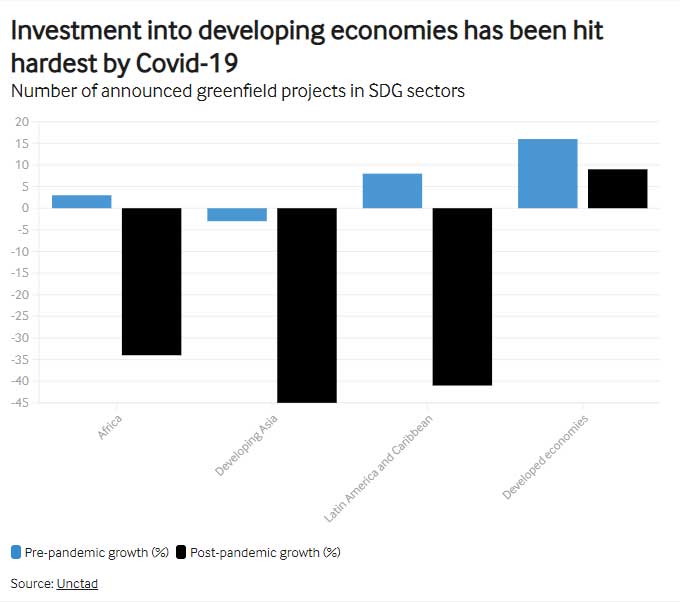 Progress in developed markets
In contrast to these declines, the report — which uses fDi Markets data — found that investment in advanced economies' SDG sectors in 2020 are on track to grow 60% by value and 9% by project number. This is notwithstanding the trend towards stricter foreign investment screening. Another recent Unctad report found that nearly 60% of EU countries' foreign investment measures between January and November 2020 address national security concerns regarding SDG sectors.
This growth is a silver lining, given the 75% slump in total FDI to developed economies during the first half of 2020. The finding by Unctad in October is contrary to original predictions that less-developed regions would see the biggest slowdown in investment flows as a result of Covid-19.
Rebooting SDGs
Private capital makes up the bulk of international resources flowing to developing and transitioning economies, and is considered vital to reaching SDG targets. Cross-border greenfield investment and project finance in these countries' SDG sectors is around $350bn annually, compared to just $50bn of official development assistance in 2019.
UNCTAD's report calls for a renewed SDG commitment from all stakeholders and highlights the critical role played by international private sector investment. Mr Bhattacharya, a former president of Unctad's governing board, agrees it is time to "reboot" the objectives, but he stresses that foreign investment is no silver bullet and warns against viewing developing countries as "victims".
"The innovation and optimism shown by these communities and states during this period has gone beyond expectations," he said, giving the example of Bangladesh sending 6.5m personal protective equipment gowns to the US in May.
While UNCTAD emphasises the need to encourage and facilitate SDG investment, Mr Bhattacharya wants a more holistic approach. "We need to integrate the new innovation, dynamism and resilience shown at a national level by poorer countries," he said. "How do you bring that to the table and scale it up to the global level? That is part of the challenge for the next 10 years."