Introduction of the organisation
Caritas Bangladesh (CB) is a national organization of the Catholic Bishops' Conference of Bangladesh (CBCB) to carry out the activities of social welfare and integral human development. With the Central Office based in Dhaka, Caritas Bangladesh implements more than 114 projects under the 8 Regional Offices in Barishal, Chattogram, Dhaka, Dinajpur, Rajshahi, Khulna, Mymensingh and Sylhet. CB operates under 6 major goals focusing on Integrated Development, Disaster Management and Human Resources Development at 189 Upazila out of 495 Upazilas. During Emergencies, CB is Operational in any part of the country.
The Strategic Plan of Caritas Bangladesh (July 2019-June 2024) has six development goals. To address these development goals, Caritas Bangladesh has executed 114 development projects during FY July 2020-June 2021 for improvement of their social and economic condition including quality of life.
Programmatic interventions
Caritas Bangladesh implements the program activities under the Six Strategic Development Goals, that are the time-bound targets to: (1) eradicate poverty and socio-economic development of vulnerable communities; (2) ensure food security and protect ecosystem & conserve bio-diversity through sustainable agriculture; (3) promote inclusive and equitable quality education, child development and lifelong learning opportunities for all; (4) improved nutrition, health education and care; (5) strength humanitarian response and community resilience and (6) improvement of the living standards of the indigenous peoples.
The 17 Sustainable Development Goals (SDGs) are integrated and indivisible, and balance the three dimensions of sustainable development which is at the core of CB development approach:  economic, social and environmental. All countries and all stakeholders, acting in collaborative partnership are responsible for implementation of this plan. Thus, Caritas Bangladesh, as a development agency, is an important part of it. The contribution of development activities of Caritas Bangladesh in achieving SDGs reflects through the following achievements.
The Social Welfare for Vulnerable Communities (SWVC) Program, with donors funding and local contribution, provided services and supports to 59,255 project participants directly and 366,944 persons indirectly with active engagemetn of community people, project  teams and volunteers, like-minded organizations, Govt. institutions/departments and 17 benevolent foreign funding partners. Program partners (extreme poor and vulnerable communities) received support for their economic development and livelihood promotion through self-employment, promotion of housing condition, early childhood development, protection of street children, promotion of safe migration, reintegration of returnees, psycho-social care, self-reliance and education support, legal support, health care supports, inclusive development and social reintegration of senior citizens, drug users & persons with disability, capacity building, life skills development, lobbying and networking with GO and NGOs to avail different facilities.
Technical (Auto Mechanic) training for drop out students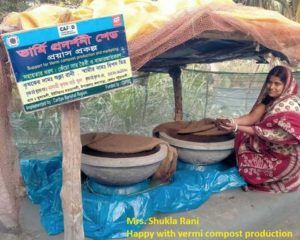 Ecological Conservation and Food Security (ECFS) program emphases on ensuring food security, protecting ecosystem and conserves biodiversity through sustainable agricultural practices.   Caritas Bangladesh has reached 129,137 (Male-59,289 and Female-69,848) direct project participants and 232,505 (Male-104,620 and Female-127,885) indirect project participants through different project interventions. Project participants produced 1,581.754 tons of vegetables, 1,251.714 tons of cereal crops, 71.63 tons of fish, 114.032 tons of cash crops & others and 830,599 pieces of eggs. They used these products for both family consumption, sale and seed preservation for forthcoming cropping season. A total of 12,667 project participants ensured food security in their family through various on and off-farm activities, including crop diversification, improve agricultural practice, climate adaptive species cultivation, community marketing, and 10,053 households received emergency support of food packages, cash and or hygiene materials against the COVID-19 pandemic to minimize negative impact and ensure food security for certain period.
The Education and Child Development (E&CD) Program of Caritas Bangladesh focuses on early childhood development, pre-primary and primary/basic education, having reached 17,022 students with collaboration from 578 teachers and ECD educators. Early childhood care and development for 307 children under the age of 6 were accomplished through 14 Day Care Centres. The pre-primary and primary schools have reached around 17,022 students giving them hopes to finish the first step of education free-of-cost. To ensure the quality of primary education, the ECD program has made liaison with the National Curriculum and Textbooks Board (NCTB), accessed and distributed free books. The major achievement of E&CD is developing of books in 13 ethnic languages and distribution of the same ensuring completion of primary level of all enrolled students, especially the ethnic children. The program has also conducted vocational and technical training courses for 2,635 students with guidance from 154 technical instructors. The graduates have gained employment opportunity with different factories, developed enterprises and uplifted their family finances.
School children under the E&CD Program
One of the six goals of CB is health care. The Nutrition and Health Education (NHE) Program provided its services to 629,906 project participants during FY 2020-2021 with the assistance of communities, project teams and volunteers, like-minded organizations and Govt. institutions/departments. The NHE program has successfully arranged different trainings/seminars/workshops for awareness raising on health issues at community level for 416,088 program participants. Besides, community medical centres provided medical consultation and medicines to 56,302 patients, special services were provided for 852 pregnant women and lactating mothers. The NHE program focuses on the health of adolescents, who receives health education and health care.
Caritas Bangladesh began its journey through Disaster Management Sector. DM services and supports has directly reached 713,850 project participants (Men-357,238 & Women-356,612) of 145,006 (ERR-57,708, DRR-59,349 & ERP-Cox-27,949) HHs, covering 490 unions of 143 upazila (sub-district) and two municipalities in 44 districts and 06 city corporations of Bangladesh. Among the total project participants, 417,105 (COVID-19: 170,505, Flood-2020: 64,765, Cyclones: 53,270 & ERP: 128,565) were reached through 24 Emergency Response and Recovery (ERR) projects and 296,745 were reached through 12 Disaster Risk Reduction (DRR) projects. A total of 1,393,958 (Men-710,919 & Women-683,039) project participants were also reached as indirect beneficiaries through the above mentioned projects. Through the DM activities, CB has developed low cost housing models that are built in partnership with the families.
Under the Development of Indigenous Peoples (DIP) Program, a total of 87,965 direct program participants (Male-43,433 & Female-44,532) and 240,774 indirect program participants (Male-112,410 & Female-128,364) received different support to improve their living standards. These development interventions are accomplished in 1,534 villages, 17 punjee (khasia village) and 20 tea gardens of 211 unions of 63 upazila (sub-district) under 29 districts.
Caritas Bangladesh through all 6 goals of the strategies, has reached in total 2,437,135 (2.4 million) individuals in FY 2020-2021. The major priority of CB remains poverty alleviation by livelihood promotion and skill development, as this creates the opportunity for the people to extend their capacity towards availing education, accessing health care services, and upgrade their living standard. This ensures food security for the families, especially, women can gain confidence in financial involvement and uplifting their families from poverty, ensuring women empowerment.
Caritas Bangladesh over 50 years, has also contributed in primary school enrolment, gender parity in primary and secondary level education, primary and curative health care, maternal health care, pro-life reproductive health education and Natural Family Planning, Sexually Transmitted Infections (STI), HIV and AIDS, TB, Leprosy and other communicable diseases, prevention, treatment and after care services for drug addicts and sex abusers. Caritas Bangladesh also contributed in the areas of disaster risk reduction, environmental sustainability, sanitation, nutrition and aspects of gender equity and improvement of the living standards of the indigenous people. The development activities of Caritas Bangladesh also contributed to achieve Eighth Five Year Plan (July 2020 – June 2025) of the Government of Bangladesh and UN SDGs.
Challenges faced in the field activities:
The pandemic has impacted all aspects of CB's work – from operating programs, planning finances, coordinating staff to how they collaborate with partners and stakeholders situated across the globe. The challenges were paving the way for new opportunities and innovative ways of working in the sector – a chance to renew how we tackle global problems together as community.
COVID 19 has delayed implementation of project activities against the planned measures and time constraints. This resulted in unutilized balance of funds, which required revision of budget and timeframe for execution of activities.
Due to health safety rules, the field level personnel had to maintain social distance, and due to restrictions on gathering, the awareness meetings could not be implemented as planned.
The project teams contacted the social group members over phone to follow up the progress and safety.
Due to shrinking opportunities of livelihood, the progress gained for economic development has fallen backwards pushing many poor families sink below extreme poverty level. This created food insecurity for many families.
Due to graduation of Bangladesh from LDC (Least Developed country) to Middle Income Country, Caritas Bangladesh has lost many donors. Some donors shifted the funding to other LDCs due to progress of Bangladesh in many sectors such as reducing morality rate of pregnant mothers, reaching 100% enrollment of students at primary level, reducing child mortality rate, etc.
Future outlook and recommendations
Lesson learnt:
With community engagement, the organization can implement all activities to cent percent.
Creating management and leadership skills among the community can lead to availing rights and entitlements from the Government.
Ensuring participation of girls and women in project activities in turn ensures practice of learnings shared from the different interventions. This ensures building resilient community and ensure food security.
Focusing on the adolescents and youths on building skills, and leadership creates a path for better utilization of their talents and time, and create hope for the country for future leadership.
Anticipated future challenges:
To create diversified skills among the youth based on market demand tackling unemployment among educated youth.
Behavioral change among the community regarding Gender equality and equity and ensuring participation of men and adolescent boys in women empowerment.
To tackle internal displacement due to climate change and utilize the workforce / skills of internal migrants.
Utilization of resources in a sustainable manner to cover internal migrants.
Building back better to allow the community to be resilient towards future disasters and climate change induced negative impacts.
COVID-19 has created a backward impression on the global social and economic factors, which led to attenuating global fund raising and donor contribution.
In Bangladesh, the emergency response program for the Rohingyas might be impacted due to increasing instability and global refugee insurgence, especially, Afghanistan issues causing huge displacement of the Afghans.
Website link of the organisation
Link: https://caritasbd.org/