Introduction of the Organization
Eco-Social Development Organization (ESDO) started its journey in 1988 with a noble vision to stand in solidarity with the poor and marginalized. Being a peoples' centered organization, ESDO envisioned for a society which will be free from inequality and injustice, a society where no child will cry from hunger and no life will be ruined by poverty. During this long span, ESDO has adapted with the changing situation and provided the most time-bound services especially for the poor and disadvantaged. A community focused and people centered approach has been adapted by ESDO while consideration was given to the national policy and Sustainable Development Goals (SDGs) as its guiding principle and the aim of ESDO have been set up to seek an equitable society free from all discrimination.
ESDO is one of the most dynamic organizations expanding its development interventions across 2231 Unions, 129 Municipality, 273 upazilas under 49 districts & 7 City Corporation, 8 Division of Bangladesh, directly reaching more than 9 million poor and vulnerable people.
In case of emergency and humanitarian response, from inception to till now, ESDO have given first priority to response any kind of disasters and humanitarian in whatever places within the country. Still now ESDO have ongoing more than 8 disaster and humanitarian response projects. Already ESDO have been response more than 50 responses including emergency and humanitarian projects.  Some of the ongoing projects are- (i) COVID-19 Response Programme: Preventive measures through promoting critical hygiene behavior and digital surveillance in low-income settlements in Bangladesh (ii) Landslide and Flash Flood Risk Reduction for Cox's Bazar"; (iii) Community Cohesion Project, Cox's Bazar; (iv) Implementation of Model activities for Disaster Risk Reduction through EGPP etc.
ESDO is very much familiar with downward of accountability mechanism and have understanding on CHS, Sphere and other humanitarian & accountability standards. At present, ESDO is working with institutional disaster response donor Start Fund Network for responding COVID 19 pandemic crisis in Kurigram district.
Programmatic interventions in response to COVID-19
Programmatic interventions:
More than 145 days has been passed we faced COVID-19 pandemic crisis in Bangladesh. ESDO has been changing its strategies according to the instruction of WHO and IEDCR and health ministry protocol in case of response the COVID-19 crisis. We also segmented our interventions based on place like for urban slum. we have been taken highly effective preventive measure for ensuring hand washing and availability of hand washing facilities and inputs in densely populated city slums. Because of, there have a high risk of urban slums and low-income settlements turning into COVID-19 clusters for crowded living conditions. We also have been taken intervention to support families and communities resilience in order to adopt adequate prevention and control behaviors to address specific negative impacts affecting children especially girls during the COVID-19 crisis. We have addressed the food crisis as per need based. We have been considered for transferring unconditional cash to the most marginalized families through this ESDO's Emergency Response Project. We also have given the first priority to strengthening community based health service system through build up awareness among the mass people as well as established hand washing station at UHC, UH&FWC, community clinic.  Along with these, disinfection of various place, provided PPE for doctors, nurses and others health service providers, also police; awareness raising song and miking and publishing and also TV programme; awareness campaigns through facebook are continuing as the regular activities of our interventions.
The target population are mainly Ethnic Minority, Dalits, ultra poor, day labour, Doctors, Nurses, Police, others health service providers. The response size of population is till now 412264. We have been given the following inputs for this response till now: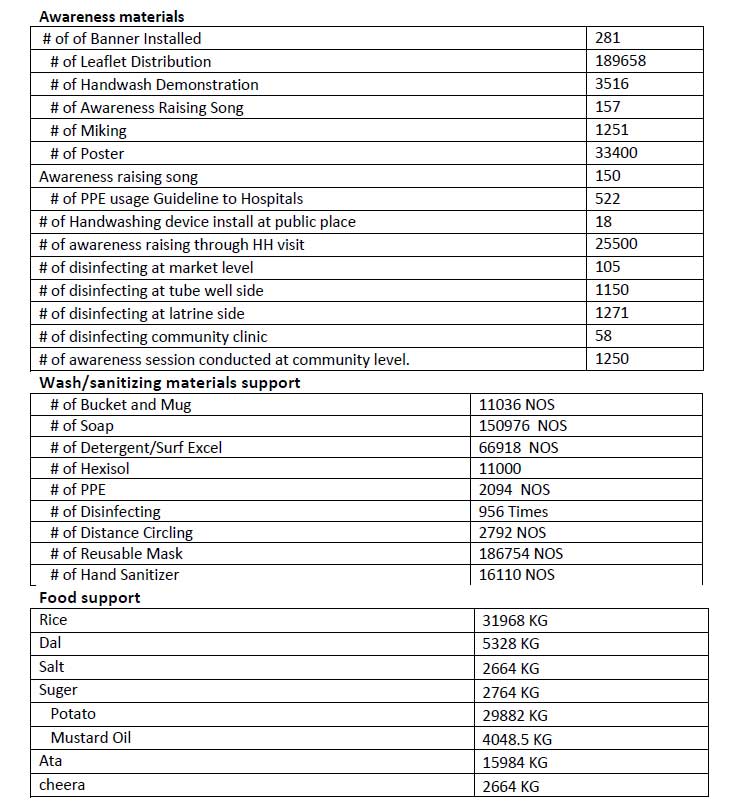 Food package supported     – 16636 household
Cash distribution – 25533 household; 33455 individuals
Challenges-(I): People were less aware about the COVID 19 severity that's why we had faced huge problem to maintain social distancing. (ii) Most of the people do not want to follow the rules of health including use of mask Mitigation: Through proper counselling we have tried to understand them regarding the negative impact of social gathering.
Future outlook and recommendations
Lessons learn:
Information is one kind of aid that has an significant role in case of pandemic response
The youth can play vital role during emergency situation if they are guided properly
Anticipated future challenges:
Government, international development partners, private sector and other national/local organizations can work with youth employment after COVID 19 situation.
Coordination among various aid agencies including government, non-government agencies/institutions/ organization and many others personal or team initiatives.
Some specific issue for advocacy:
Ethnic minority issue and others backend people should be got priority in case of any scheme taken by government.
knocking government policy makers and Civil Society Organizations to create new intervention for those vulnerable people under social safety net program during the pandemic situation
Website link of your organization's COVID-19 response