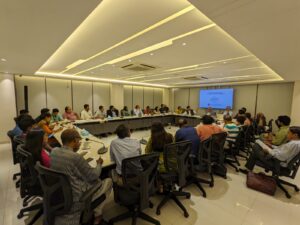 With the objective to empower the youth by way of establishing aspirations and expectations in the electoral domain, the Citizen's Platform for SDGs, Bangladesh is trying to give shape to a programme which would try to reach out to the "disengaged youth" and seek their involvement in socially motivated civic activities.
To co-create this programme, which would include a Youth Perception Survey and a Youth Empowerment Conference, a preparatory meeting of the partners was held at the CPD with Dr Debapriya Bhattacharya, convener of the Citizen's Platform in the chair.
The aim of these exercises (survey and conference) is to empower youth during Bangladesh's democratic transition, paving the way for their active participation in setting the electoral agenda, projecting pre-election demands, and influencing post-election policies.
It may be recalled that Citizen's Platform, in its recent studies, showed that about one-third of the youth community in Bangladesh is "disengaged youth" – broadly defined as those who are excluded from the mainstream development processes, particularly from the labour market. These young citizens do not necessarily belong to the "left behind" communities.
And the major consequences of their disengagement manifest through the increase of the following: (i) mental stress, (ii) drug abuse, (iii) radicalisation, and (iv) involvement in violence.
Recognising the potential of youth as catalysts for socio-economic transformation, Citizen's Platform has consistently pursued impactful activities that resonate with the needs and aspirations of young individuals.
The preparatory meeting was participated by 29 leading organisations and entities with the tradition of working with the youth as well as with active youth-related programmes.
Participating organisations (in alphabetic order):
ActionAid Bangladesh
Bandhu Social Welfare Society (Bandhu)
Bangladesh Youth Leadership Center (BYLC)
Bangladesh NGOs Network for Radio and Communication
BRAC International
British Council
Concern Worldwide
Centre for Policy Dialogue (CPD)
Democracy International
Dhrubotara Youth Development Foundation DYDF
East West University Economics Club
Education and Development Foundation-Educo
EMK Center
HEKS/EPER (Swiss Church Aid)
JAAGO Foundation
Jahangirnagar University Debating Society – JUDS
Kapaeeng Foundation
Naripokkho
Young Economists' Forum(NSU YEF)
Oxfam in Bangladesh
Plan International Bangladesh
SERAC-Bangladesh
The Asia Foundation
The Hunger Project
United Nations Youth and Students Association of Bangladesh
World Vision Bangladesh
YES Foundation Bangladesh
Youth For Change Bangladesh
Youth Policy Forum – YPF