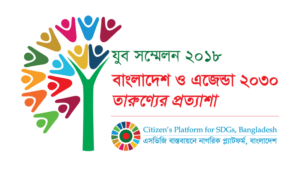 The Citizen's Platform for SDGs, Bangladesh is going to organise a day-long Conference titled Youth Conference 2018: Bangladesh and Agenda 2030 – Aspirations of the Youth on 14 October 2018 in Dhaka. The announcement came at a media briefing held on 1 September 2018 at CIRDAP International Conference Center.
The objective of the Conference is, to make the youth aware about SDGs and their roles in implementing the goals. The Conference logo, website, registration, photography and short-film contests were launched at the media briefing.
The Coordinator of the Platform Ms Anisatul Fatema Yousuf, Director, Dialogue and Communication, CPD, shared with the audience the objectives of the "Youth Conference 2018" and informed them about various activities being undertaken in view of the Conference.
Dr Debapriya Bhattacharya, Convenor of the Platform and Distinguished Fellow of CPD, observed that, nearly 30 per cent of the total voters will be young in the next national election of Bangladesh. So, the voice and aspirations of the youth should be heard and considered while designing policies for national development. The Youth Conference 2018 will be a platform for recognising youth aspirations and inspiring them to get engaged with the national policy influencing process.
The Core Group Members of the Platform Dr Iftekharuzzaman, Executive Director of Transparency International Bangladesh (TIB) and Ms Shaheen Anam, Executive Director, Manusher Jonno Foundation also emphasised and elaborated on the importance of engaging youth in the SDG implementation.
At the briefing session; pre-, during and post-Conference activities were also shared with the media. These include research on youth employment in Bangladesh, fair showcasing youth activities, policy dialogues on youth concerning issues, mapping on the NGOs working on youth Bangladesh, analysis of government initiatives on youth development, analysis of youth agenda in election manifestoes, youth-issue based policy briefs, launch of e-library on youth activities, short-film and photo competition, cultural session and a youth declaration 2018.
All the necessary information on registration, participation and competitions are available here – www.youthconf18.bdplatform4sdgs.net