Period: 15th March- 15thApril 2020 | 1st Edition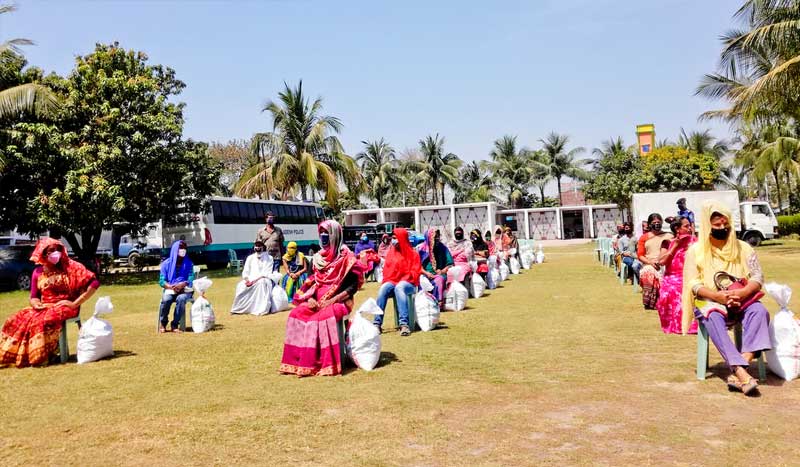 The COVID-19 pandemic is a crisis of a completely different magnitude and this outbreak has affected all intersections of the population, including people living in poverty, older persons, persons with disabilities, youthand people from indigenous communities. The persons with different Gender Identities in Bangladesh are not beyond these segments, and are constantlyfacing multiple challenges and difficulties in accessing minimum level of support in their everyday lives.
Bandhu Social Welfare Society (Bandhu)is always concerned about the needs of gender diverse communitiesand designs timelyprograms to support the community. Considering the sudden wake of COVID-19, Bandhu has taken the following initiatives during this periodto serve the community:
Distribution of Relief
Networking and Communication for enabling support from Government, other agencies and Individuals
Mental Health Helpline Counselling
Awareness Program
Safety and Security Services
Fund Raising Program
Documentation and Monitoring
Component wise achievements (15thMarch- 15thApril 2020)
Relief Distribution: 524 individuals
Relief ensured through Networking and Communication:2166 individuals
Mental Health Helpline Counselling:93
Awareness Program: 4 materials developed
Safety and Security Services: Formation of different committees –3, guideline and policy developed – 3, Ain Alap services:21
Fund Raising Program: So far BDT 480,000 mobilized and utilized for relief
Documentation: Preserved comprehensive report, meeting notes
Description:
Distribution of Relief: The Transgender and Hijra community has always been stigmatized and the current countrywide lockdown situation has interrupted their day-to-days earning thus putting their life into misery. Considering this situation, Bandhu has already taken initiatives to provide food and other emergency support to 3,350 community members. The relief package will contain 5 kg rice, 1 kg lentils, 3 kg potatoes, 1 kg puffed rice, 2 kg onion, 1-liter soybean oil, 1 kg salt, 2 masks, 1 soap, and 6 pkt. of oral saline.
To distribute the relief smoothly and avoid overlapping Bandhu developed a comprehensive contingency plan where number of beneficiaries, items were segregated. Based on the availability of funding, Bandhu will distribute relief in multiple phases.
In Phase 1, Bandhu has already distributed food and hygiene support to 524 individuals directly across the country in beginning of April 2020 and is processing to provide to another 500 community members under Phase II.
Networking and Communication for enabling support from Government, Other agencies and Individuals: Bandhu decided to arrange relief for the rest of the community people using the strong network of Bandhu at local level. Over the years Bandhu has developed a good rapport with local administration, including DC office, Civil Surgeon's office, LEA in different districts. Bandhu also formed different pools to work as catalysts for the community at local level, i.e. media forum members, lawyers, human rights activists. However, for the community people to access to relief materials without stigma and discrimination from the local administration, Bandhu hasengaged different pools and Community Based Organization (CBO) at local level.
Through thesenetworkso far2064community people received relief across the country. Please see annex information on division wise distribution of relief.
Division wise distribution of relief:
S/L

Organization

# of
Beneficiaries

Nature of
Support

Division

Data Source

1

UNDP and NHRC

1000

Relief

Dhaka

Kalerkantho.com

3

District
Commissioner (DC)

188

Relief

CTG

CPLUS TV


4

District Police

80

Relief

Sylhet

Sylhetvoice.com

 

5

District
Commissioner (DC)

50

Relief

Barisal

Barta24.com

 

6

District
Commissioner (DC)

105

Relief

Rangpur


Ajkerbangladesh.com

 

7

District Police

24

Relief

Rajshahi


Shaheb-bazar24.com

 

8

District
Commissioner (DC)

150

Relief

Mymensingh

Channel 24

 

9

District
Commissioner (DC)

20

Relief

Khulna

The Daily
Probaha

 

10

Rajshahi City
Corporation

100

Relief and Cash

Rajshahi

Jugantor

 

11

Department of
Social Welfare Services

47

Cash (BDT
2,53,800)

Barisal

Barta24.com

 

12

Divisional
Commissioner (DC)

300

Relief

Mymensingh

The Daily
Mymensingh Pratidin

13


Total

2064

 

 

 

Mental Health Helpline Counseling:
Mental health includes emotional, psychological, and social well-being which affects how we think, feel, and act. Mental health is important at every stage of life from childhood to adulthood. Infect suicidal tendency amongst gender diverse community is highercompared to other people due to social stigma, discrimination, family and social exclusion, identity crisis, Gender Based Violence by members of the family, etc.Realizing its importance, Bandhu introduced online and offline services on mental health counselling for the community since long.
During COVID-19, Bandhu extended its services and introduced exclusive Help Line number (Porichoy: 01714 048418) where community people receive mental health support with full confidentiality throughout the lockdown situation.
So far 156 calls were received through 93 clients from across the country and were provided services accordingly.
Doctor's helpline: [we can give this information at the end of the update new initiative]
Community people can't access proper information related to their daily health complicacy during COVID-19 lockdown situation as most of the community people are staying at home following the instruction of the Government. As number of the community people are suffering from Non-Communicable Diseases (NCD) therefore sometimes they require doctor's advice. For the betterment of community health, Bandhu decided to ensure general health services through Doctor's Help line where only community peoplewill receive all kinds of medical advices as per need. This service will launch from the beginning of May 2020.
The Doctor's help line number: 01714 048 000
Awareness program:
Creating awareness amongst the community is a regular activity of Bandhu. Regular awareness related radio message is being broadcasted through the Public Service Announcement community with the support of RGDP project. Besides, this regular activity, Bandhu has formed a pool to develop time appropriate awareness material focusing COVID-19 and boosting up on Bandhu's Webpage, Facebook and other Social Media. Bandhu also planned to develop few more communication materials in the local language of Rohingya, so that Rohingya community people can read it out for their awareness.
So far 4leafletsfor public awareness purpose have been developed and uploaded accordingly on the website. In addition, Bandhu is disseminating leaflets of other partners in their respective areas;11news have been published in different newspapersincluding both online and print media.
Safety and Security services:
Bandhu is also concerned about the safety and security of both community people and staffs. Focusing COVID-19, Bandhu has taken different steps,for example:
a) Formation of Humanitarian Task Force consisting of 7 membersb) Measure safety issues focusing COVID-19 and provide necessary information along with medical equipmentc) Developed Work-at-Home policy for the staffd) Formation of a group consisting all members of Bandhu including Field Officese) Guidelines for frontline workers to provide health services at the field levelf) Formation of divisional support group consisting of 4 members who can provide all kinds of support and monitor relief distribution at the local level.
In addition, Ain Alap-the legal help line of Bandhu is providing all kinds of information to the community if they need any emergency support in line with their safety and security.
Fund Raising Program:
Despite all initiatives, significant numbers of community people are starving throughout COVID-19 situation and are struggling hard to manage food and other necessary amenities. To ensure relief to the remaining 2826 community people (as per Bandhu's comprehensive plan),we have takena number of initiatives to mobilize fund:
All staffs voluntarily donated their one-day salary to start the relief program
Developed and submitted number of proposals, highlighting the relief of 1800 community people
Approached the current donors especially MJF, USAID, Christian Aid to support this noble cause
Besides these, Bandhu has initiated crowdfunding to generate fund using social media
As a result, MJF has already approved contingency budget for 100 youth volunteers and approval of USAID and Christian Aid is inthe pipeline.
Documentation and Monitoring
Bandhu preserved all kinds of reports, pictures, news link, all expenditure related information for audit. Besides, Bandhu created a photo gallery where all COVID related pictures and other documents will be uploaded periodically.