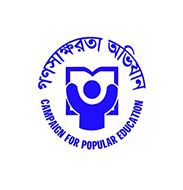 Campaign for Popular Education (CAMPE)
CAMPE is an advocacy and campaign coalition operating in Bangladesh since 1991 with a vision for an educated, creative, democratic, secular, humanitarian, equitable and poverty free Bangladesh. CAMPE started its journey with only 15 member organisations and over the last twenty years have grown into a credible membership coalition of a thousand NGOs, researchers, educators, teacher unions and other civil society organisations and individuals sharing similar vision.
CAMPE works relentlessly with the Government, decision-makers and international community to achieve national goals and targets keeping in view the Education 2030 Agenda. It has been working on Primary and Secondary Education, Technical – Vocational Education and Training (TVET), Early Childhood Care and Education (ECCE), Multilingual Education (MLE) with a focus on right to education, education financing, inclusive education, girls education and quality of education. CAMPE acts as the Secretariat of Education Watch, a civil society platform that regularly presents civil society perspective on progress and challenges of education in Bangladesh.
CAMPE is affiliated with regional and international civil society networks like Global Campaign for Education (GCE), Asia South Pacific Bureau of Adult Education (ASPBAE), International Council for Adult Education (ICAE), United Nations Girls Education Initiative (UNGEI), Global Call to Action against Poverty (GCAP) and Collective Consultation of NGOs (CCNGO) of UNESCO.
Organisational Focal Person for the SDG Platform

Dr. Mostafizur Rahaman
Deputy Director
Email: mostafiz@campebd.org

Communication Focal Person for the SDG Platform

Mr Mohammad Abdul Quddus (Prince)
Co-researcher
Email: prince@campebd.org
Contact:
Mailing Address: House: 5/14, Humayun Road, Mohammadpur, Dhaka-1207, Bangladesh
Telephone: +88 (02) 58155031-32, 58153417, 9130427, 8142024-5
Fax: +88 (02) 9123842
E-mail: info@campebd.org
Social Media: Facebook
Website: http://www.campebd.org