The local government needs to play an effective role in ensuring that the benefit of the Sustainable Development Goals (SDGs) reaches all. Thus, enhanced participation in the SDGs implementation process and empowerment of the local government is vital. A "Local Government Commission" can be formed to ensure proper harmonisation among the ministries and the administration and also to strengthen the voice of the local government.
These views emerged at a local level dialogue, "Role of local government in SDGs implementation". The dialogue was jointly organised by the Citizen's Platform for SDGs, Bangladesh, Madaripur Municipality, the Centre for Policy Dialogue (CPD) and Madaripur Legal Aid Association (MLAA) on 13 April 2019 at the Madaripur Shilpakala Academy Auditorium.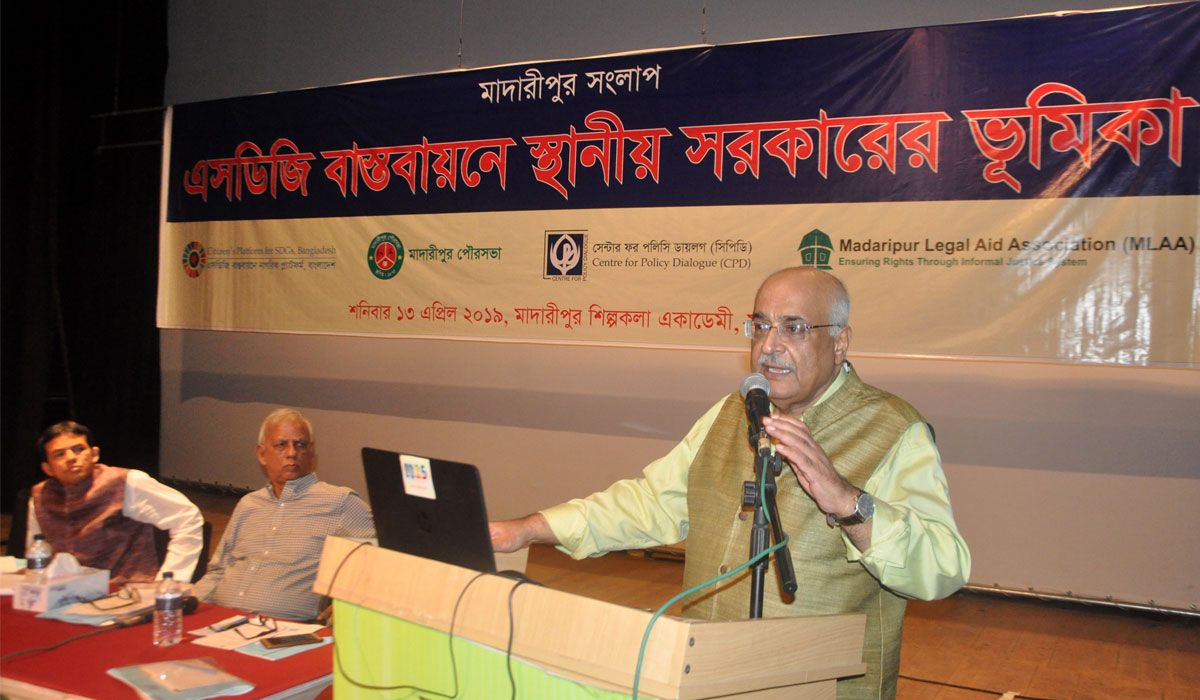 Dr Debapriya Bhattacharya, the Convenor of the Citizen's Platform and the Distinguished Fellow of CPD, made the keynote presentation at the dialogue. In the presentation, Dr Bhattacharya emphasised on the need for ensuring the rights of the left behind people and highlighted the challenges from unplanned urbanisation. Proper empowerment of the local government and a strengthened communication between the local and central government is critically important. Thus, the central government should build awareness and capacity of the local government.
Mr Fazlul Haque, Secretary, MLAA delivered the welcome speech. Mr Azharul Islam, Additional Deputy Commissioner was present at the dialogue as the distinguished guest. Madaripur Municipality Mayor, Mr Khalid Hossain Iyad chaired the dialogue which was moderated by MLAA's Chief Coordinator, Mr Khan Md. Shahid.
Representatives from the Madaripur Upazila and Union Parishad, government officials, representatives of civil society organisations, teachers, development workers, youth representatives and journalists also participated at the dialogue.