Despite huge success towards increasing access to education and enrolment rates, Bangladesh lagged far behind in quality education. There is a need for accountability and participation of non-state actors in the education sector for ensuring effective implementation of SDG-4. These were observed in a dialogue titled "Accountability for SDG-4 and Citizen Participation" jointly organised by CAMPE and Citizens' Platform of SDGs, Bangladesh on 29 April 2017 at BRAC Centre.
The dialogue highlighted that the effects of lack of accountability in the education system are manifested in two folds; (i) in poor learning achievements and competencies of the next generation (ii) lessons that the young learn about ethics and morality are hinged. In the keynote presentation, Dr. Mustafa Mujeri, Executive Director, Institute for Inclusive Finance and Development (InM) highlighted how lack of accountability at different levels of education management hampered quality and access to education. He further points that there exists significant concerns in availability of resources, limited quality assurance system and rising costs of education.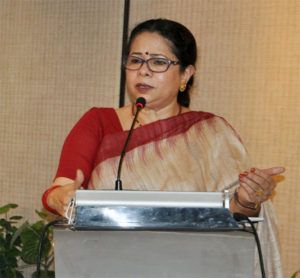 He cited an example from national assessment of student learning, which showed only 25 percent of Class 5 students achieved the expected competencies in Bangla and Math. However, over 95 percent of the students appearing for Class 5 primary completion examination have passed. These have raised concerns on the quality of education. However, to expedite accountability while implementing SDG-4 it is necessary to raise citizen's participation, inclusiveness and transparency within the process.
The Minister of Primary and Mass Education, Advocate Mostafizur Rahman, MP, Chief Guest at the event, noted government's determination and commitment to promote quality education for all. He urged GO and NGO teachers to collaborate and work with the same sincerity for being answerable to the community.
A much debated point was on developing a comprehensive definition of quality education and ways to measure on the learning outcomes. Discussants and other guests asserted on the need for transparency to address quality education and silent exclusion by developing a framework that aligns with SDG4- and with national plans and priorities.
While speaking as the Special Guest, Dr Shamsul Alam, Member (Senior Secretary), General Economics Division, Government of Bangladesh informed the dialogue that the 7th FYP have covered most of the issues relating to SDG-4, however, adequacy of resources remains a challenge for proper implementing of the global education agenda. He made a point for allocating larger provisions in the budget to improve school infrastructure, school feeding programs, better learning materials, and better paid teachers that would result in better learning outcomes comparable with the international standards.
Bangladesh needs to develop credible and well-focused roadmaps for implementing the full SDG4 agenda; strengthen the public education system by associated governance frameworks; and connect clear mechanisms for transparency and accountability to the citizens for ensuring delivery of expected educational outputs, said Dr Debapriya Bhattacharya while chairing the seminar.
The meeting was also attended by human right activists, education campaigners, senior government officials, development partners including representatives of other civil society groups.